Michelle Q. Linovitz
Real Estate Professional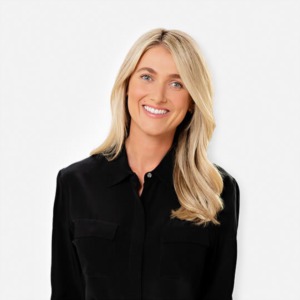 Possessing the rare and requisite skills to excel in an extremely competitive marketplace, Michelle Q. Linovitz is a force to be reckoned with among coastal Orange County's highest-producing realtors. A Newport Beach native with a Business Finance degree from the University of Southern California, Michelle employs her innate understanding of the coastal area and its complex submarkets to better serve her discerning clientele. Having represented more than $500 million in career sales and current representation of some of the area's most exceptional property offerings, Michelle is a leader in the new generation of coastal Orange County's luxury real estate professionals.
With a particular focus on the exclusive communities of Corona del Mar, Newport Beach, and Costa Mesa, Michelle is rapidly ascending within the luxury property sphere and is widely regarded as a trusted professional by her industry colleagues. Backed by the award-winning marketing, technology, and brand support at Villa Real Estate in Newport Beach, coupled with ambitious tenacity and an eye for design, Michelle continues to set a new high-water mark in an industry already known for its top-level service.
If you are thinking of selling your home, Michelle would love the opportunity to sit down with you and discuss how she can work in concert to support you, your property, and deliver the results you deserve.
Testimonials
Michelle is an absolutely amazing realtor! Her knowledge of the market, expert advice, patience and professionalism make her a star. Michelle's guidance in selecting our home was unparalleled - and we now have our dream home thanks to all of her hard work and dedications!
Buyer in Corona del Mar
Michelle was very professional and knowledgeable. We started working with Michelle at the very beginning of our search and she helped us navigate different neighborhoods and home features. We were especially impressed with her attention to details as she would notice things about homes that we had missed. Michelle was very responsive and prompt. She helped us find our new home. And her expertise during the escrow and closing process was superb. We are so grateful.
Buyer in Newport Coast
Michelle's market knowledge and negotiation skills are only matched by her professionalism. She represented my husband and I on both the sell and buy side and in both experiences she made herself available to answer any questions we had no matter the time of day. On the sell side, Michelle staged our home to look more beautiful than ever and her marketing pictures and materials were of unbelievable quality. Michelle was able to accurately assess the value of our property and her negotiations increased the buyer's original offer significantly. She provided diligent updates throughout the process and made closing a breeze. After just a couple of weeks on the market we sold it for nearly our asking price, all thanks to Michelle! Similarly, on the buy side, she diligently went to search for us and we found our dream home off-market in a difficult time with limited inventory. Our experience with Michelle was flawless. Thank you again Michelle, your clients are the luckiest to be represented by a true expert who works so hard on her clients behalf.
Buyer in Newport Beach
As first time home buyers, we knew NOTHING about this process and trying it for the first time in Newport was nothing short of daunting. In arguably one of the hottest markets around, with houses literally going into escrow in a day, this could have been a very terrifying and nerve-wracking experience. Luckily, we had Michelle advocating on our behalf to make the process almost seamless and stress free. We ended up getting the home of our dreams and we couldn't be happier in hindsight. I would absolutely recommend using Michelle to anyone else looking at buying a new home anywhere around Newport.
Buyer in Corona del Mar
Michelle is incredible at her job. She helped my wife and I purchase our first home and she held our hands throughout the whole process from start to finish. She grew to become way more than a real estate agent. I think of Michelle as our go-to real estate advisor when it comes to buying and selling a home. I 10/10 recommend Michelle!
Buyer in Costa Mesa
More Testimonials