Mimi Roca
Real Estate Professional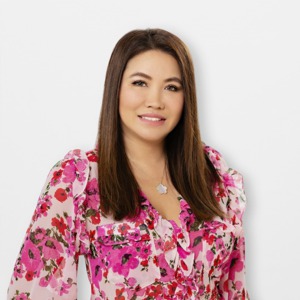 Mimi Roca is a Newport Beach resident and specializes in coastal real estate in Orange County. Mimi also services Los Angeles as she is a native Angeleno and a graduate of UCLA (2001).

Mimi started her real estate career in Beverly Hills in 2005 and has worked in numerous markets from Silicon Beach to Downtown LA. Prior to her real estate career, Mimi worked for Fortune 25 & Fortune 500 companies, promoting advertising and technology for large and mid-sized businesses across the nation. In her 10+ years working in corporate America, she was recognized as one of the top business development executives in the nation, winning national awards and competitions such as Presidents Club and Winner's Circle, a recognition for the top 1% in the nation. Since launching her real estate career, Mimi has sold millions, working across all price points. Many of her clients have enlisted her services multiple times, relying on her as their go-to resource for their real estate needs.

Mimi's background in corporate sales, where she has extensive experience in marketing, business strategy and contract negotiations, has helped her achieve greater success in representing her seller, buyer, and investor clientele. Mimi's knowledge of business development coupled with her experience in real estate gives her the competitive edge in OC's and LA's ever-changing marketplace, and in representing and negotiating for her clients. Her 5-star client reviews speak volumes – they demonstrate her reliability to deliver impeccable results, making lifelong relationships along the way.

Combining hard work, honesty, a tireless work ethic, and her genuine love for people, Mimi delivers immaculate customer service and focus. Her main goal is to always provide the very best service for her clients. Whether you seek to buy, lease, or sell, Mimi will make sure to look after your best interests, delivering the best possible price and a pleasant experience all-around.
Testimonials
We had been working with Mimi since 2019, before the pandemic. She is very knowledgeable and patient about house hunting. She gave us a lot of good advice from escrow to closing. Besides her expertise, she is also a very caring person, very easy to work with.
Daisy Fu
Five star rating, 10 star service! Mimi and her team were excellent, they made our home buying process so easy and smooth. Her team was in constant contact with us for all the details. They were able to calm our nerves and deliver us a perfect condo for our new family! I would 100% recommend Mimi and her team.
Darin Randall
Mimi is unequivocally an excellent agent. Mimi engineered the impossible for us! We were first time home buyers in the middle of a pandemic and an unprecedented shortage of housing inventory. Despite this, Mimi was able to guide us into securing our dream home after a few short months of hunting. She was patient and flexible, attending all showings with us while working around our schedule. She could be reached day or night with questions—an extremely prompt communicator by any means (phone, text, email, smoke signals, etc.). She knows the home buying process inside and out, and was able to advise us on a slew of topics. Beyond raw knowledge, Mimi was a fierce strategist and negotiator. She was able to get us a large credit thanks to her negotiation skills. She was also able to move extremely quickly and efficiently throughout the Escrow process—we closed in 18 days (wow!!). She was a particular asset in coordinating all sorts of inspections and associated follow ups. Above all, Mimi executes her job while maintaining a friendly and positive demeanor (important throughout this potentially stressful process)! Bottom line, I would recommend Mimi to anyone who is looking to buy a home!
Michael Dupuis
Mimi represented us as first time buyers in Los Angeles. Mimi is very knowledgeable and knows exactly what it takes to get you into escrow and close. We ran into a lot of issues with our lender along the way, and Mimi did everything she could to push the lender to move along and while keeping our minds as ease. If it wasn't for Mimi, we wouldn't have snagged our beautiful home in Rancho Palos Verdes for asking price!
Heather Laurens
I remember very vividly getting in touch with Mimi several years ago as I found her online. At that time she had stellar reviews and an already existing client base who raved about her services, communication, punctual follow up, and overall very professional approach to residential real estate. My budget was minimal at that time as my wife and I were recently married, so I put everything on hold after we made our initial contact with Mimi. Several years passed by and my wife and I decided to save up aggressively and pull the trigger. I didn't hesitate to contact Mimi and almost instantly she had emailed me back to arrange a phone conversation to further discuss what my wife and I were looking for. Because we were first time home buyers my wife Jen and I had absolutely no idea what we were doing, we had tremendous amounts of questions (silly ones I'm sure), emailing and texting constantly on a daily basis about offers, competition with other home buyers, escrow and all that entails with inspections among other contingencies. And I can honestly say that without Mimi and her phenomenal performance, professionalism, knowledge and skill Jen and I would be in huge trouble. Mimi was nothing but a joy to work with. She handles things. Legitimately gets things done, it's amazing. She is always available for texts, emails, phone calls. If you are debating between several agents, this isn't a difficult choice Mimi performs and is family. I would work with Mimi again in a heartbeat, no question. Stalks to you and will treat you so great while at the same time being extremely professional with a vast amount of knowledge in her profession. I rarely write reviews for individuals. This one is different though, it is well deserved and I know she poured herself into this house. A note to Mimi, for all she's done. Mimi, thank you so much for helping Jenny and I buy a house. This entire process was made easy by your efforts. I cannot thank you enough. Wishing you all the best with your lovely family and I wish you much success in your future endeavors! Looking forward to having you over for our house warming party!
James Lewis
More Testimonials