10 Amazing DIY Christmas Decorations
Posted by Villa Real Estate on Tuesday, December 18, 2018 at 8:00 PM
By Villa Real Estate / December 18, 2018
Comment
Featured photo courtesy of Marian Parsons

We have begun the final countdown to Christmas. With less than a week left to go, we're, finalizing gifts, putting the finishing touches on decor, and gathering the ingredients for Santa's cookies. With Christmas coming up so soon, the New Year on the horizon, and with the holiday season lasting a deceivingly short amount of time, we like to go all out with our decorating, to make the season feel as full as possible.
With that in mind, we have rounded up 10 different DIY Christmas Decorations that will make your home feel like a winter wonderland.
LET IT GLOW
To create a simple but high impact outdoor holiday display, try these lighted grapevine spheres. They're a great way to fill front porch urns that have been left empty once the summer and fall flowers fade.
Make your own with step-by-step instructions on HGTV.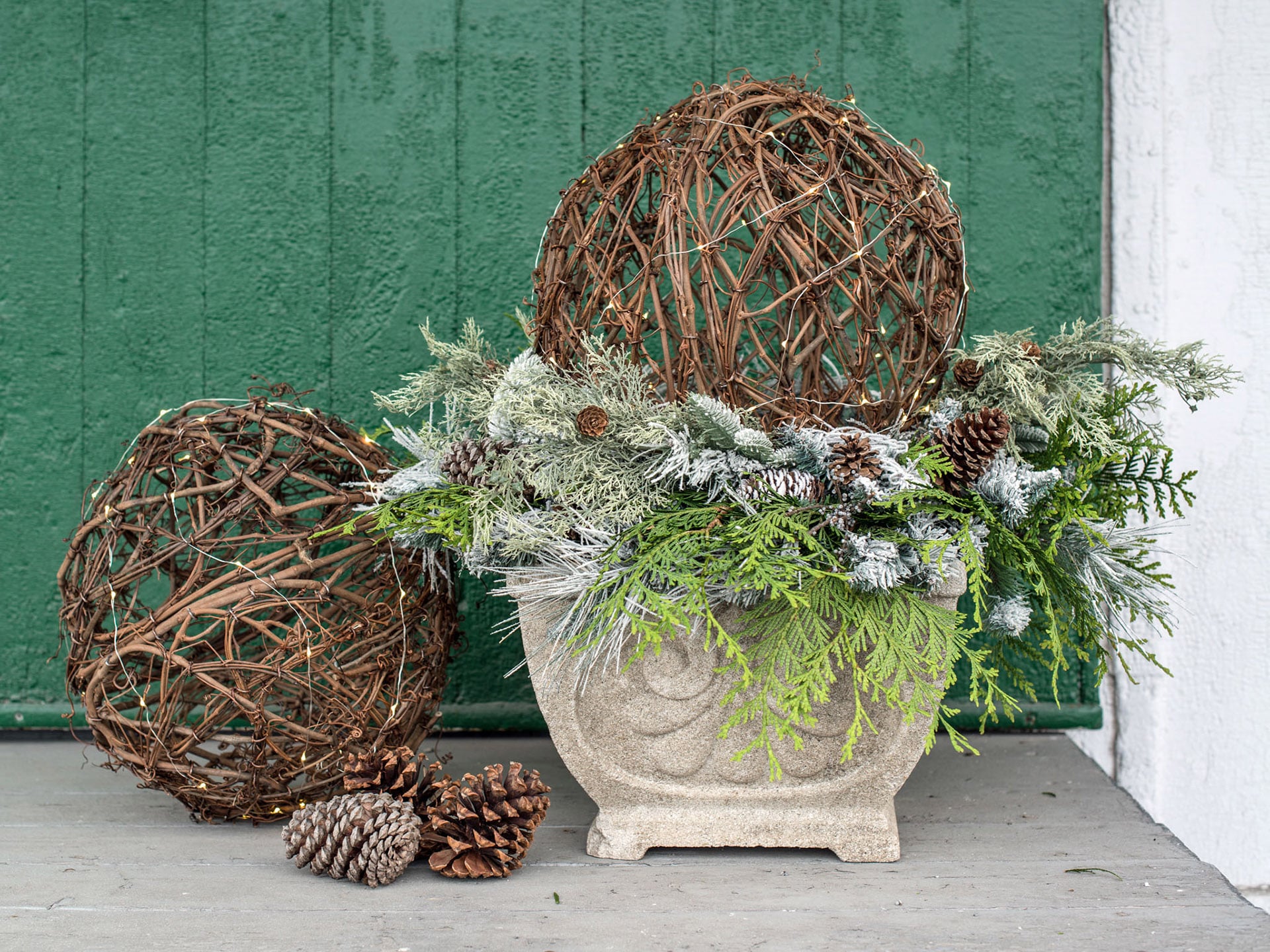 CREATE A SNOWY SETTING
Add a frosty touch to your holiday table with this easy-to-create felt snowflake table runner. The natural burlap and white snowflakes will tie in perfectly to any rustic and cottage-inspired holiday theme.
Get the instructions on HGTV.
ADD SOME SPARKLE
These gorgeous, glittering votives only look expensive. Using glitter, glue and an empty jar, you can easily craft them yourself.
Get the step-by-step instructions on HGTV.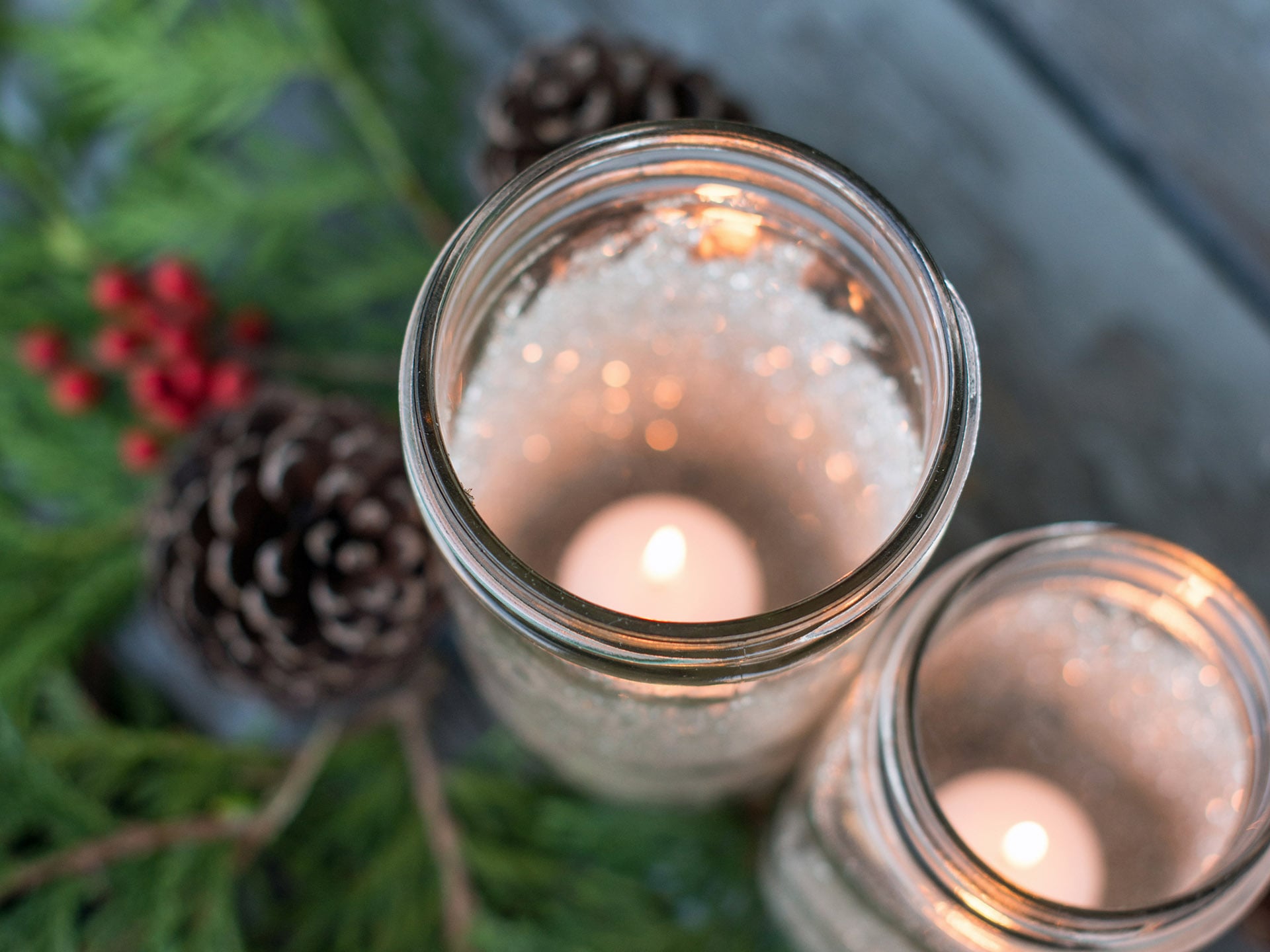 BUILD A SNOW-FREE SNOWMAN
A sturdy wooden support, plus 3 faux evergreen wreaths, equals a friendly outdoor snowman who won't melt, making him the perfect decoration for our snow-free climate. Plus, by using faux wreaths, rather than fresh, you can display him year after year.
Craft your own with HGTV's step-by-step instructions.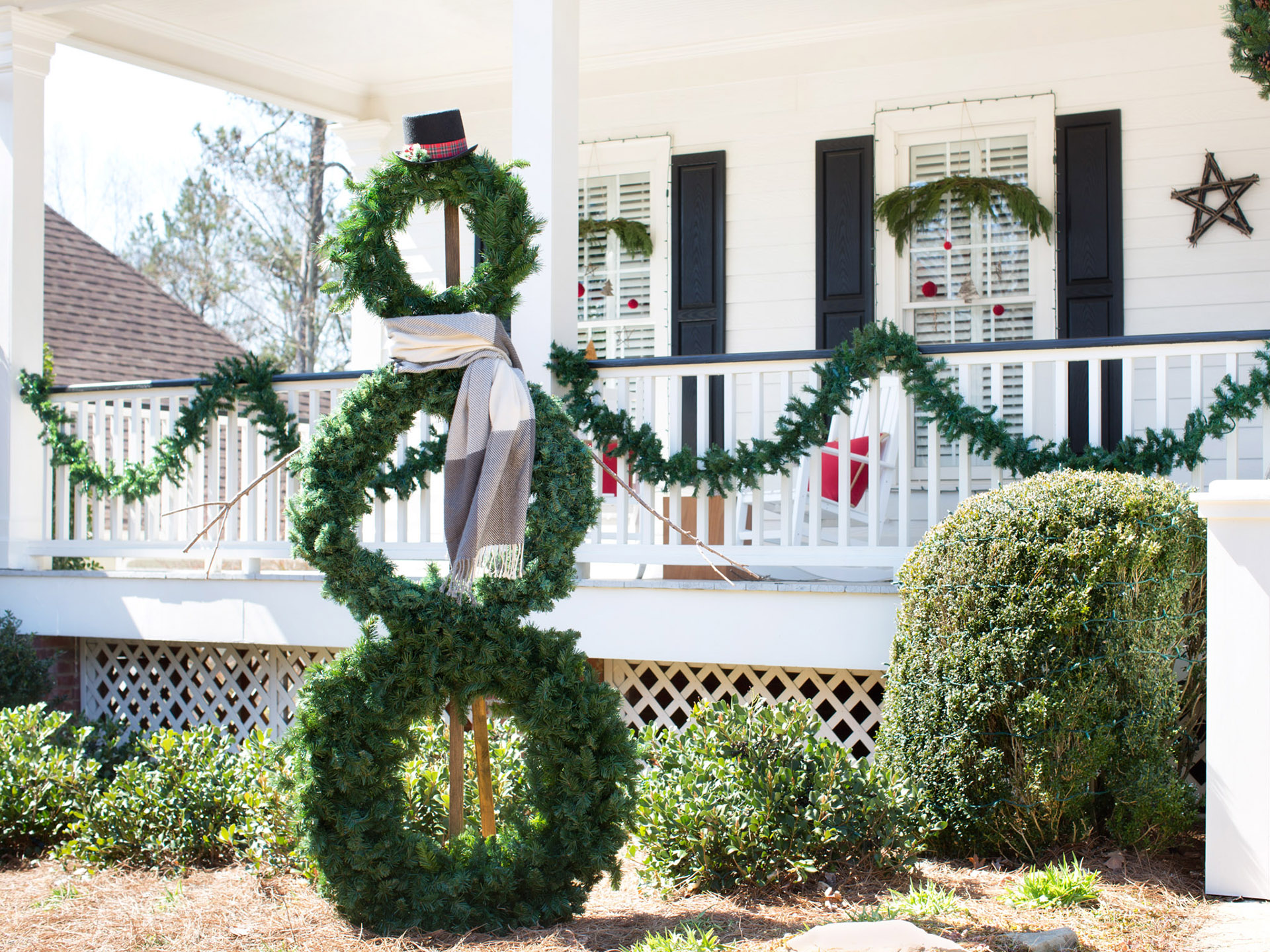 GIVE YOUR MANTEL DECOR A TWIST
This one is a surprisingly easy way to bring in a beautiful and unique twist to your mantel. Simply use a variety of empty food boxes and wrap them in three or four different kinds of fabric that all coordinate with one another. Then finish off each package with decorative ribbon—like fabric, satin, or twine—and hair flowers for embellishments. Arrange the wrapped "gifts" among ornaments, pinecones, candles and other glittery holiday decor for a fun and festive vignette
Make your own with step-by-step instructions on HGTV.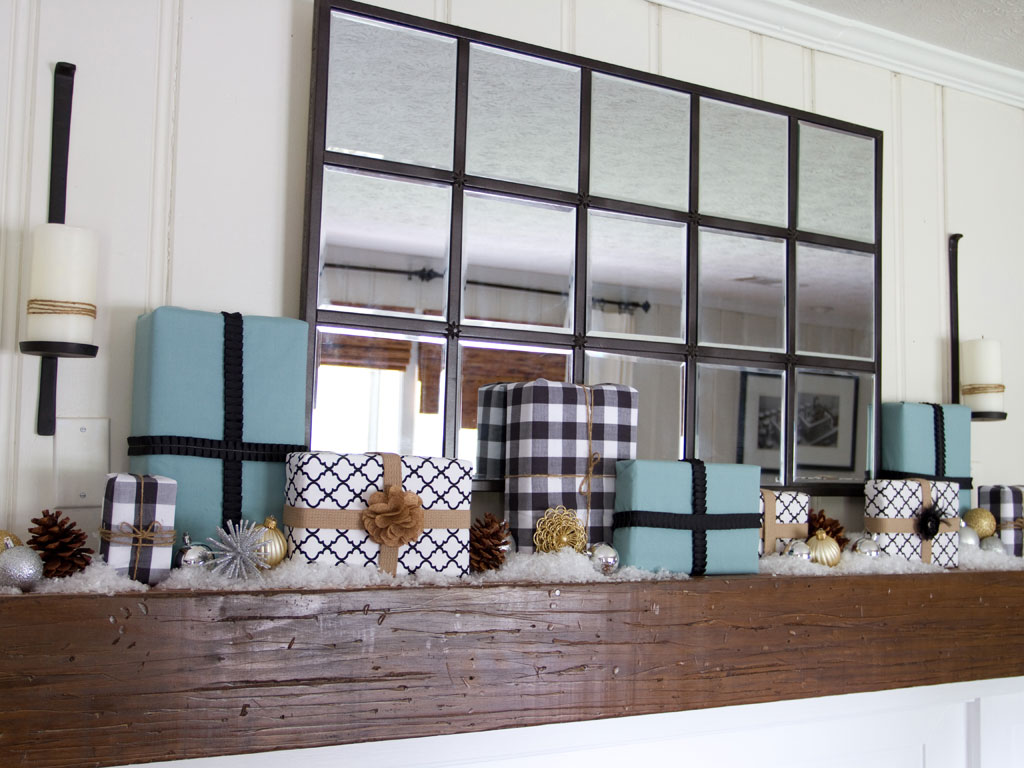 DECK THE WINDOWS
Even though it may not snow here in coastal orange county, you can certainly bring that traditional wintry feel into your home. Use plain white copy paper and printable snowflake templates to string together cut-out snowflakes, creating a chilly curtain for any size window inside your home.
Get crafting with these instructions from HGTV.
PERSONALIZE THE PLACE CARDS
Looking for a unique take on holiday place cards? Marian Parsons places a glitter chipboard letter in a pinecone to create personalized place settings for each guest. To get the look, use an artist brush to apply school glue to both sides of a traditional chipboard letter. Then sprinkle silver glitter on the letter until both sides are entirely covered. Marian suggests adding adhesive magnets to the back of each letter for inexpensive and practical party favors.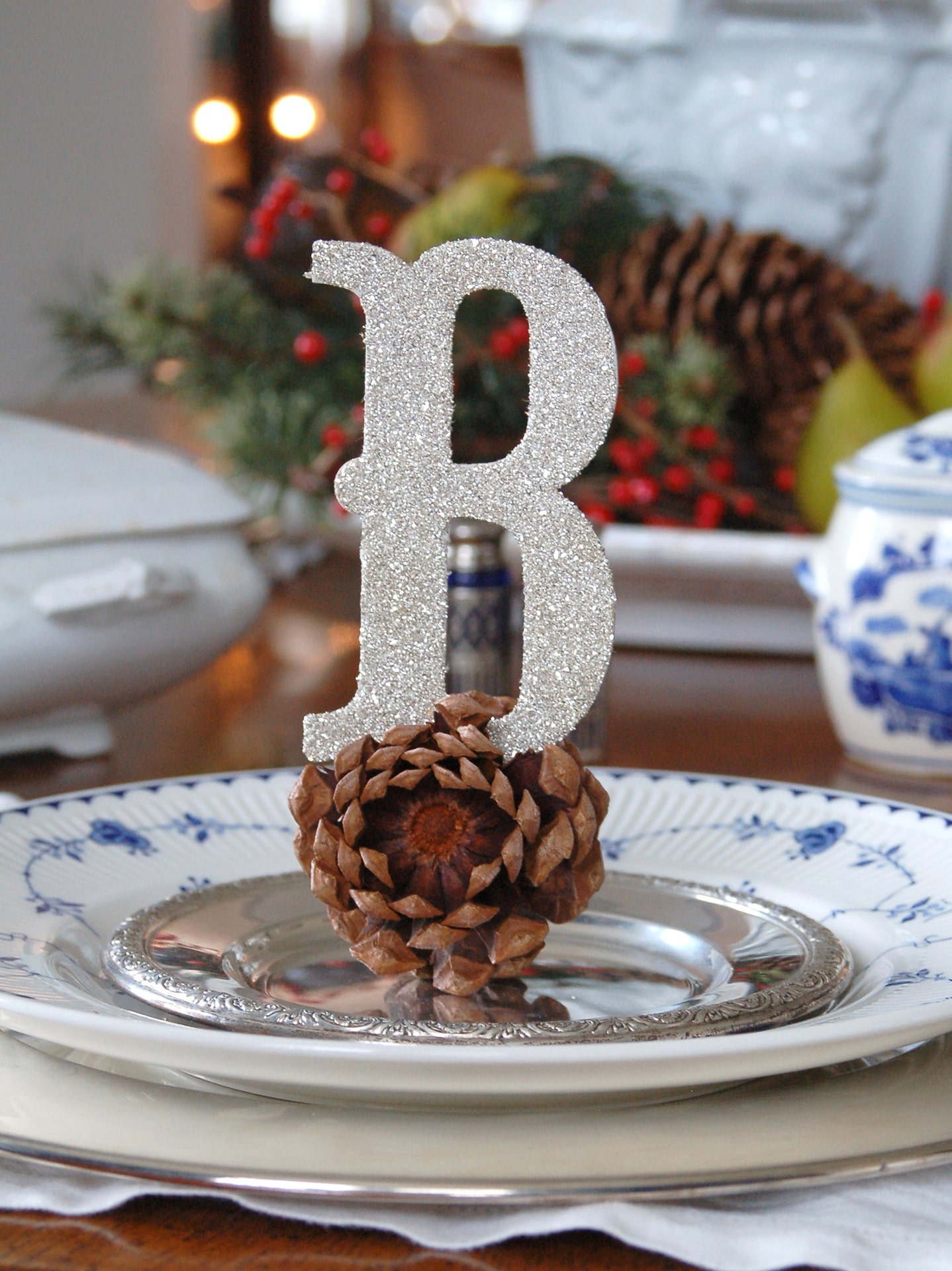 ADORN YOUR CHAIRS
Create festive dining chair embellishments to coordinate with your tabletop decor this holiday season. Simply wrap and tie a two-loop bow in the center of each chair using two-inch-wide un-wired ribbon in your preferred seasonal hue. Then embellish the center of each bow with greenery, pinecones, and berries.
Get crafting with step-by-step instructions from HGTV.
MAKE CHALKBOARD STOCKING HANGERS
Rather than relying on store-bought stocking hangers, designer Marian Parsons combines poplar boards, chalkboard spray paint, and coat hooks to create personalized pieces to spruce up her holiday mantel. This project is a perfect way for the woodworker of the family to contribute to the holiday decor.
Get the instructions on HGTV.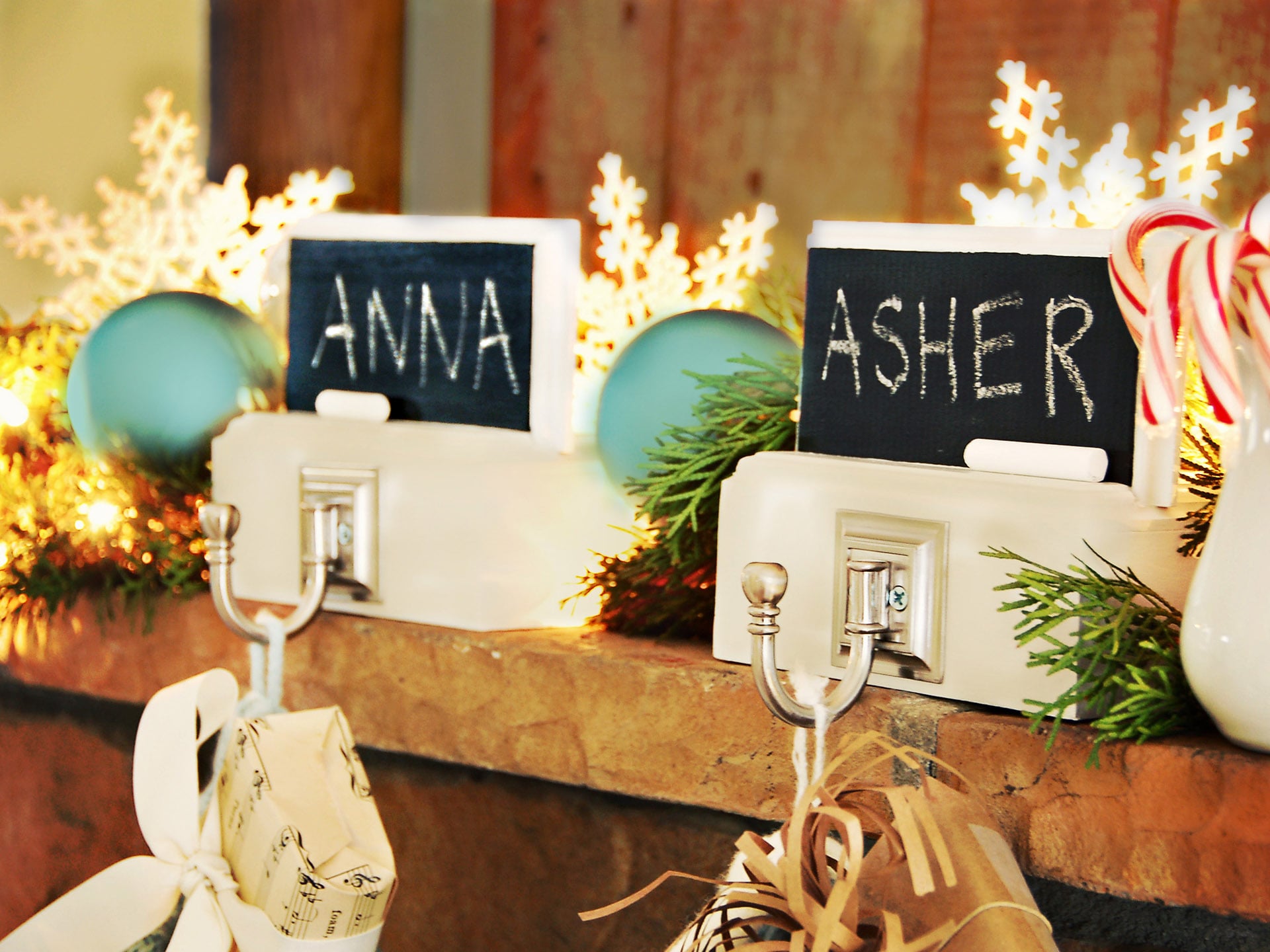 CREATE A RESTAURANT-STYLE MENU BOARD
Let your guests know exactly what's for dinner with a restaurant-style menu board made from a DIY chalkboard. For more seasonal and sophisticated flair, apply gold leaf to a large wooden frame. Guests will love it and never know how easy and inexpensive it was to make.
Get the DIY instructions on HGTV.
We hope you enjoy turning your home into a winter wonderland with these DIY Christmas decorations!