4 Luxurious Spa-Inspired Bathrooms
Posted by Villa Real Estate on Tuesday, February 13, 2018 at 8:00 PM
By Villa Real Estate / February 13, 2018
Comment
In our recent blog post about Home Decor Trends for 2018, we mentioned that resort-inspired decor and design is a trend to watch. Even more specifically, spa-inspired bathrooms are a growing trend, especially in the luxury market. To help give you some inspiration, and to show you some on the market options, we have pulled four listings from our "Luxury Bathrooms" Pinterest board that feature spa-inspired bathrooms.
The Custom Bayshores Home
This Bayshores custom home by architect Mark Scheurer and designer Courtney Lawrence-Zeithing is straight from the pages of Luxe Magazine, which featured the residence for its warmly appealing soft Contemporary architecture, its extraordinarily stylish interiors, and its ideal family floor plan. This home features four key spa characteristics. The simple yet elegant design is visually pleasing and does not distract from the atmosphere of relaxation. The use of natural materials is prevalent throughout. The freestanding bathtub offers an unparalleled opportunity for relaxation. And this bathroom integrates technology, offering carefree relaxation for the owner, still having access to those modern technology amenities.
2471 Crestview Drive, Newport Beach is listed by Evan Corkett and Steve High.
The 2017 Custom Port Streets Home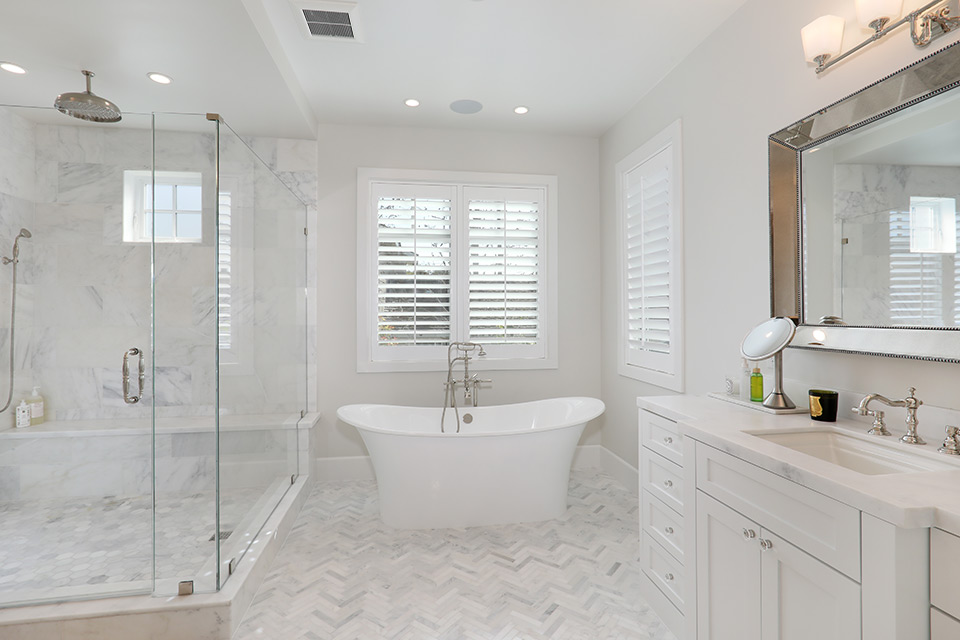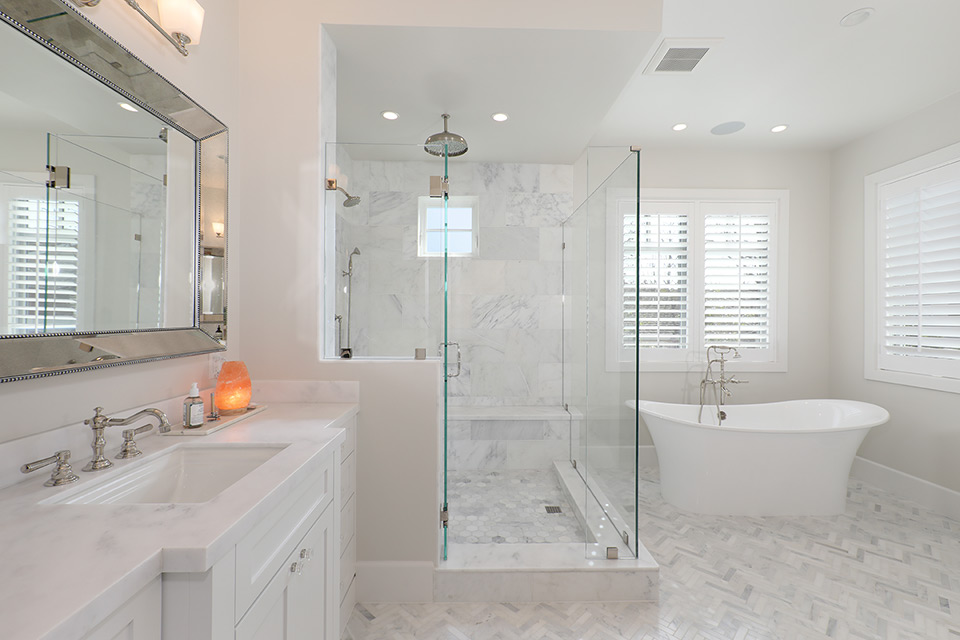 Stunning new, 2017 construction in the Port Streets. Wonderful opportunity to own one of the finest homes in Newport's most desirable family neighborhood. Impeccably finished including wainscoting, European white oak floors, exquisite marbles, Shaw's farmhouse sink, and custom lighting fixtures. Large outdoor limestone fireplace, stone accented patio and landscaping designed by Roger's Gardens. The clean design of the room, using a mostly monochromatic color palette provides a serene environment for the owner. The freestanding tub, alongside the large shower with luxurious rainfall showerhead offers dual options for relaxation. The strategically-designed windows allow for ample natural light, and the bright white color palette makes the space feel even larger and allows that natural light to reflect. This timeless offering is sure to appeal to all who enter.
1927 Port Weybridge, Newport Beach is listed by Heather Kidder, Stephanie Lowe, and Jon Flagg.
The Immaculate Versailles Big Canyon Home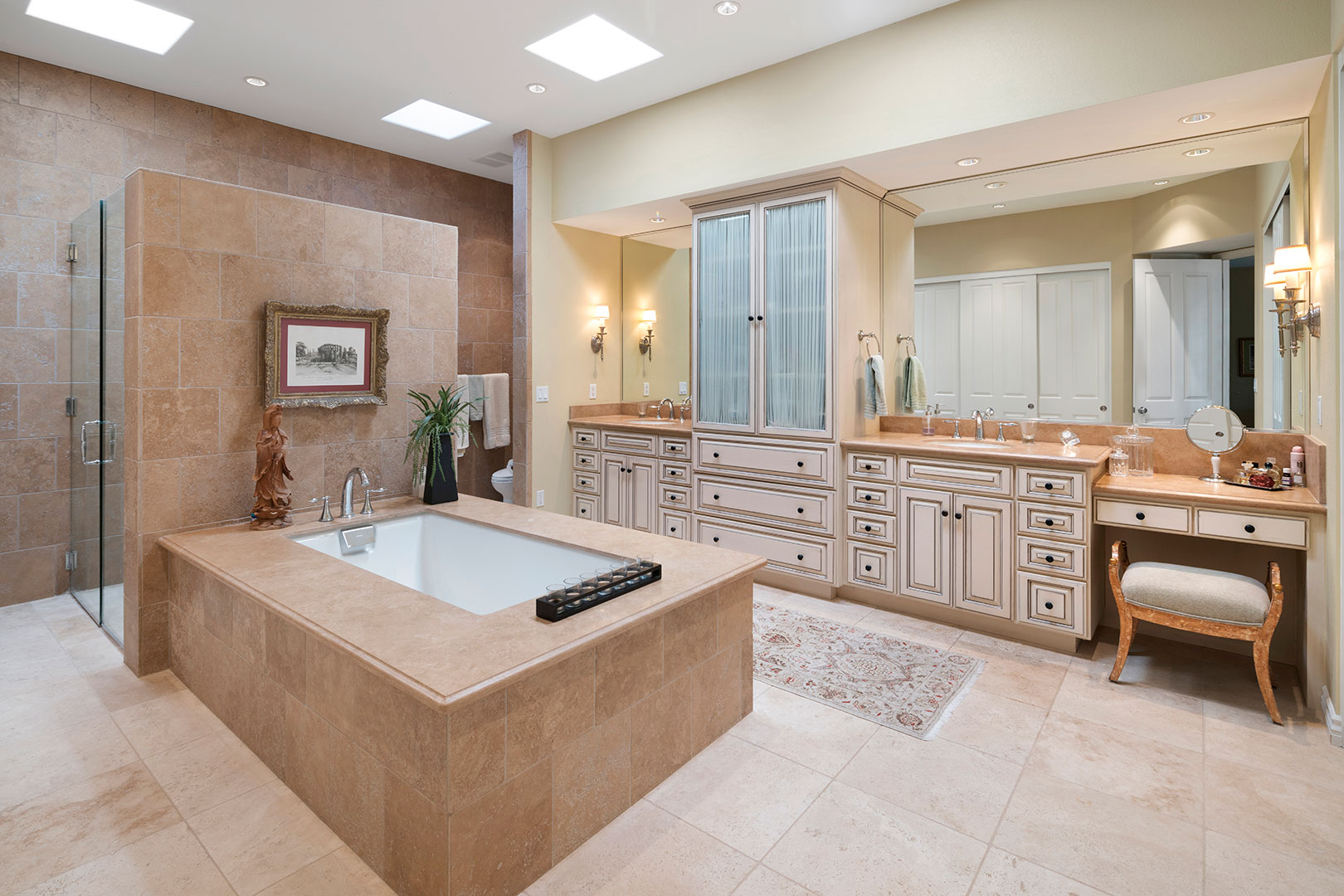 This immaculate traditional home perched behind the prestigious guard gates of Big Canyon features a convenient main level master suite and is situated on an oversized, elevated corner lot. Boasting the highly sought Versailles floorplan, this home offers spacious living spaces and features dramatic two-story ceilings. The spacious master suite offers beautiful built-in cabinetry and a luxurious spa-like bath complete with dual vanities. The ultimate neutral color palette, open space, high ceilings, large tub, and separate shower all combine to provide the ultimate in-home spa experience.
17 Rue Saint Cloud, Newport Beach is listed by Lindsay Bibb and Natalie Raney.
The Ocean View Laguna Beach Cottage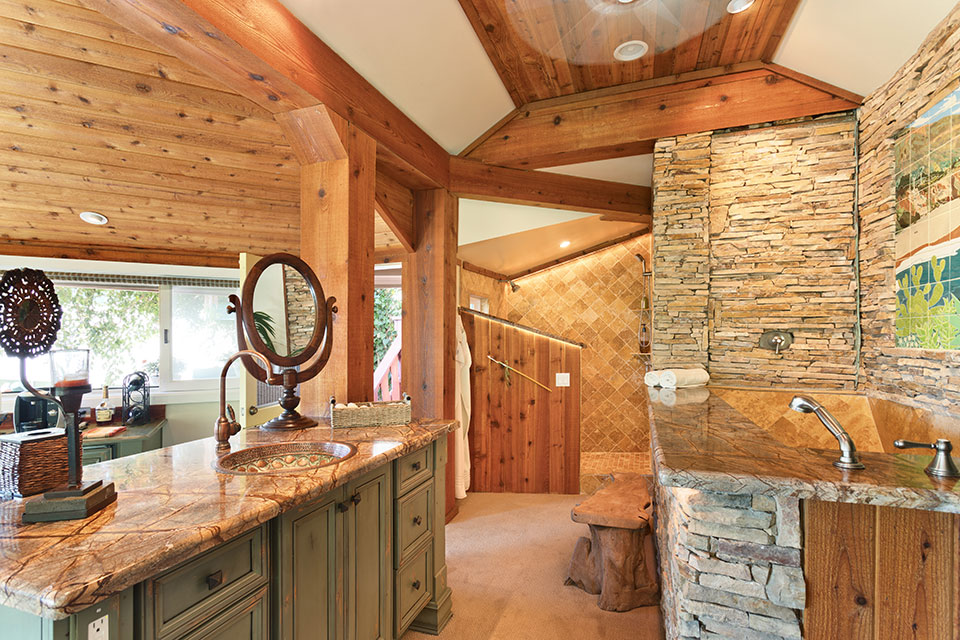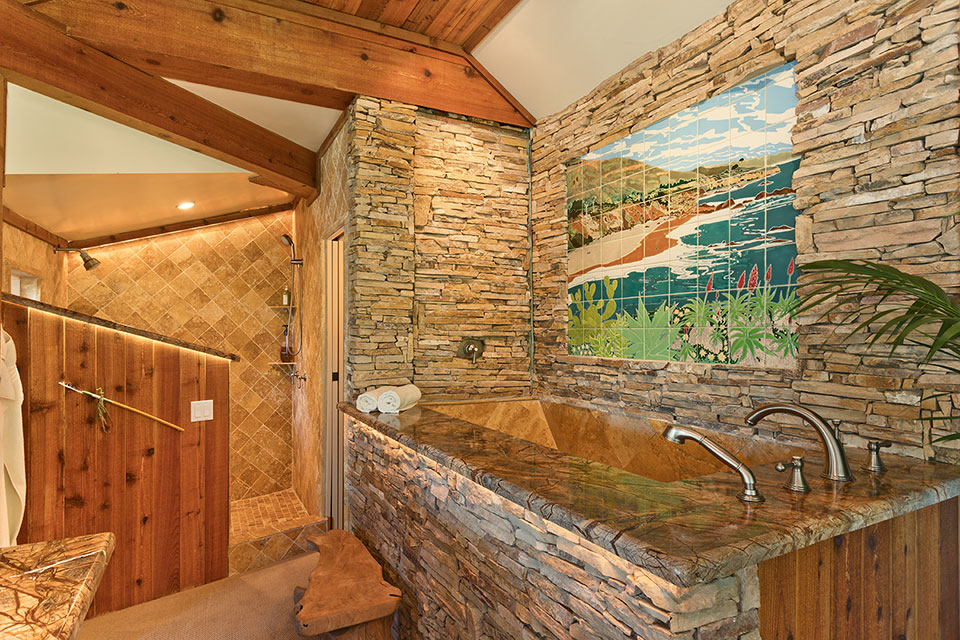 With an estimated 8,700 plus square foot lot, this cottage-style beach house sporting pacific panoramas of Catalina Island and white water views of Lagunas beachfront rest atop the sand and surf of two picturesque South Laguna coves. Just steps to private stairs with access to beautiful Table Rock Beach. This spa-inspired bathroom features extensive use of natural materials. From the wood beams accenting the walls and ceiling to the stonework the tub is housed in, this spa-style bathroom is the ultimate in-home escape to nature.
31717 Seacliff Drive, Laguna Beach is listed by Chris Sirianni.
When it comes to relaxation, it's all about preference. Your bathroom should be your own personal retreat. If that means including a steam feature, multiple rainfall showerheads, heated floors, a towel warmer, or the latest tech, then that is exactly what it should have.
If you would like to see more luxury bathrooms that are designed for the ultimate in-home spa experience, visit our Pinterest board, Luxury Bathrooms and pin your favorites.
Related links: