'Mod Cod' According to Betsy Van't Hof | Villa Real Estate
Posted by Villa Real Estate on Tuesday, July 18, 2017 at 9:00 PM
By Villa Real Estate / July 18, 2017
Comment
We could all use a little design help from time to time. And for those times, we have super helpful designers, like Betsy Van't Hoff of Art By Design. Betsy very graciously let us in on some tips for designing with the "Mod Cod" look, a type of traditional Cape Cod cottage style that integrates modern aesthetics and technological features. She designed the staging for a home listed by Villa's own Tracy Bowie and Tim Carr of the Tim Carr Group, 201 16th Place, Costa Mesa. Betsy also offered her thoughts on another home the two have listed at 1620 Orange Ave, Costa Mesa, which also showcases the style.
Here are her thoughts on the "Mod Cod" interior style:
What is "Mod Cod"?
The "Mod Cod" look draws from the charm of vintage California cottages and other coastal vernacular architecture… and then crosses it up with the open space, light-filled interiors, and up-to-the-minute tech one would expect to see in a modern home built for today's buyer.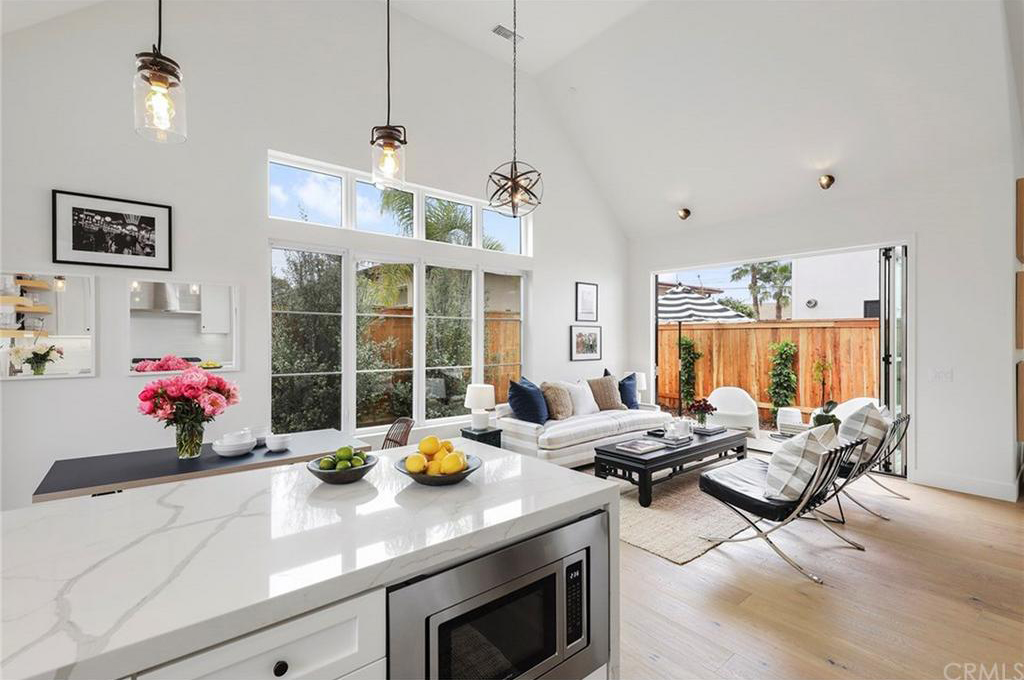 What features in those listings showcase the "Mod Cod" style?
Upon entering either of the two cottages, a.k.a. "The Sag Harbor" and "the Montauk," discerning buyers will immediately appreciate the thought that went into the design of these charming new homes… Dutch doors, shingles, board and batten, wide-plank hardwood floors - these details recall the charm of the many fisherman's cottages which once dotted the coast of California. Volume ceilings, La Cantina folding door systems, voluminous windows, the newest tech—these key features pay homage to the clean aesthetic of the modern movement. Combine the vision of the team at Brand Development with the best of the old and the new and... Voila! We have the "Mod-Cod"!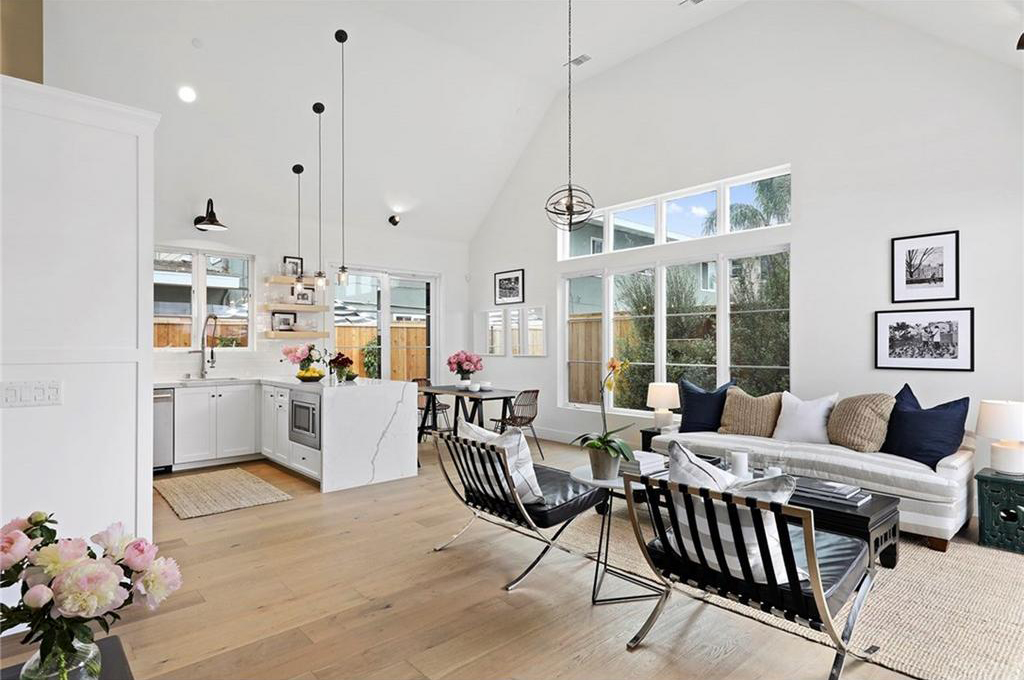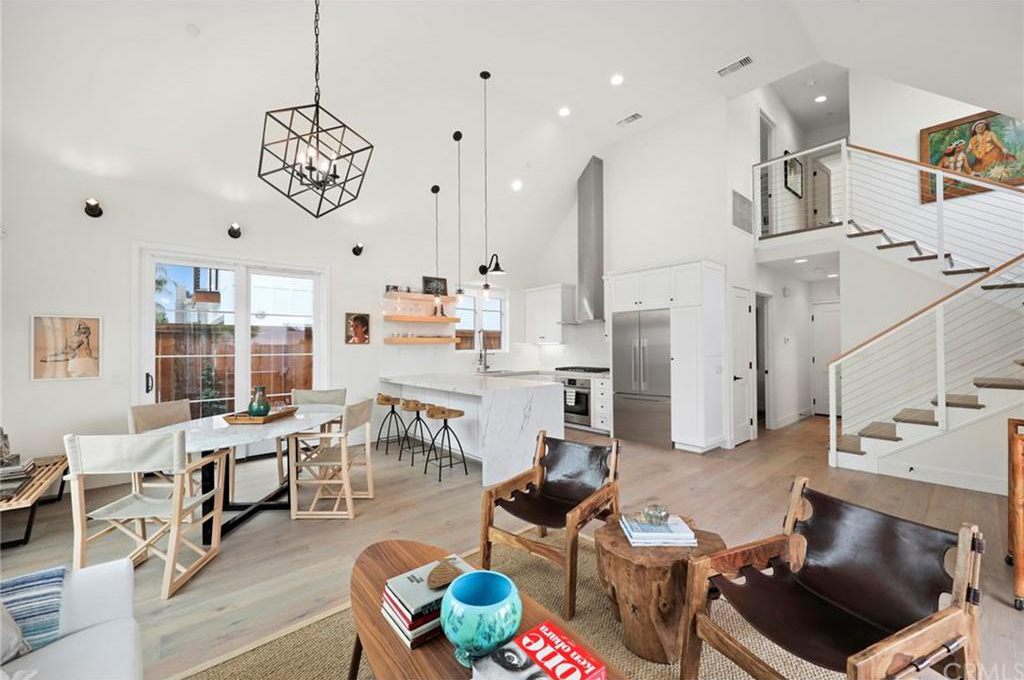 What else can you tell us about the interior of 201 16th Place?
The interior of the "Montauk" Plan incorporates a soft, tonal palette that sets a scene intended to complement the open, light-filled architecture.
The furnishings include:
• A 1960's vintage sofa upholstered in horizontal striped washed linen.
• Original artwork-including 1950's oils, and modern black and white photography (shot with 35mm film on a vintage Leica camera to achieve a soft, dreamy, memory-like quality).
• The Great Room and Master Bedroom feature pieces which give a nod (and a wink-these are not originals!) to the genius of the 20th Century's most iconic designers - including a pair of Ludwig Mies van der Rohe's 1929 Barcelona-style chairs and Charles and Ray Eames' 1956 molded plywood and leather lounge chair and ottoman.
• Multiple large mirrors.
• A sprinkling of black-painted Asian antiques.
• An Ikea desk top and trestles make up the dining table, set with World Market's Flynn Hairpin chairs - plus four black counter stools (also from Ikea) create a "best of high-low" design mix.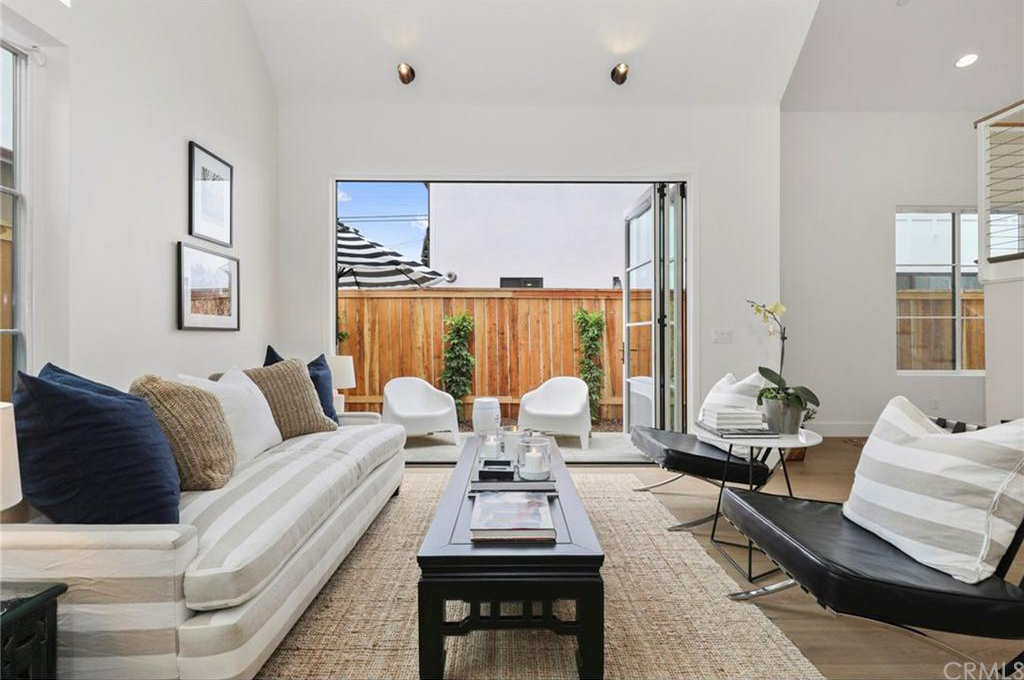 So whether you're staging a home to sell or just doing some redecorating, "Mod Cod" design is definitely a style to consider. It's chic, traditional, and modern all at the same time. Quite an elegant combination.