TAKE A DREAM VACATION TO SEYCHELLES
Posted by Villa Real Estate on Tuesday, June 20, 2017 at 9:00 PM
By Villa Real Estate / June 20, 2017
Comment
There are beaches, and then there are beaches. The latter can be found plentifully on the Seychelles islands (pronounced "say-SHELLS") a tropical 115-island archipelago suspended in the Indian Ocean, many miles east of Kenya and north of Madagascar. The collection of islands is so beautiful that early British explorers thought they had stumbled upon the Garden of Eden. We wrote briefly about the destination in our post about the top luxury vacation destinations for 2017 earlier this year.
With its remote location and exclusive access, the Seychelles islands usually attract visitors looking for the ultimate romantic getaway. And it's understandable, given the fact that there are few places in the world that are more isolated than this heavenly cluster of islands. Pristine beaches, water so clear that you never lose sight of your feet, and the remote location are only the beginnings of this beautiful vacation spot's charm. The islands also boast an extensive collection of indigenous flora and fauna that can only be found on the islands, plus the main island, Mahé, has plenty of architectural beauties to behold. And being an incredible luxury destination, it also hosts incredible seafood and resorts.
A LITTLE HISTORY
There is no record of the Seychelles being inhabited until the French began settling the islands in 1768. Over the next 200 years, control passed between the British and French, until Seychelles finally gained independence from the U.K. in 1976. Today, the country is incredibly multicultural; most Seychellois trace their lineage back to early French settlers and East Africans who came to the islands later. There is also a sizable South Indian and Chinese influence in the cultural makeup of the islands.
BEFORE YOU GO
Tourism is the #1 industry, ever since the opening of the Seychelles International Airport in 1971. If you have a United States passport, you are not required to obtain a visa for a visit less than 30 days. However, you will be required to show proof of return transportation, lodging information, and sufficient funds.
WHAT TO PACK
The islands have a tropical rainforest climate, with the characteristic high levels of humidity, but that is balanced with cool ocean breezes. Pack swimwear, loose-fitting clothes, and open-toe footwear. Hiking is also a very popular activity, so consider bringing some sturdy boots to hike in. Rainy season is December through February, so keep that in mind when selecting activities and wardrobes.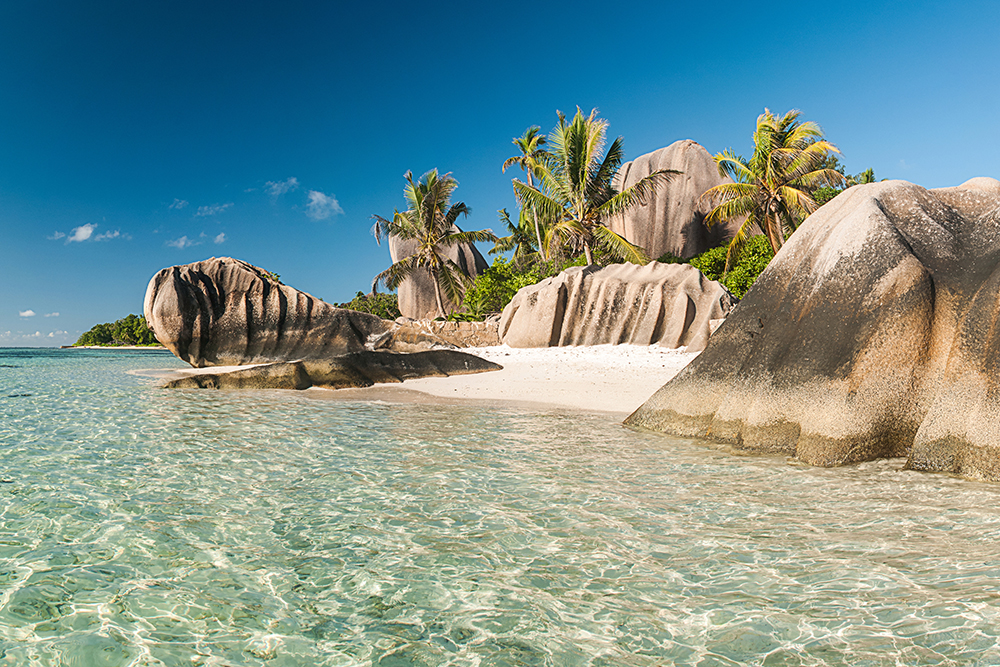 WHAT TO SEE
Beaches. Many are virtually untouched and never crowded. Visit the most country's most famous beach: Anse Lazio beach on Praslin island, known for its clear blue waters and native takamaka trees. More inland from the beach on Praslin is the Vallée de Mai Nature Preserve, a thick green jungle filled with indigenous plant and animal species that have remained isolated since the islands were formed. While exploring, try to catch a glimpse of the Seychelles black parrot. This part of Praslin is the only place in the world where you can find it.
If you're looking for a shoreline framed by picturesque granite boulders, the Anse Source d'Argent beach on the island of La Digue is where you would go next. And if, for some reason, you need a break from the beach, visit the island of Mahé and see the capital city of Victoria. The city houses incredible architecture,—including some British and French colonial structures—open air markets, museums, and a vibrant nightlife scene.
WHERE TO STAY
Be prepared to splurge. Some favorites around the islands include the Six Senses Zil Pasyon, on the private island of Félicité (which houses 30 villas, all facing the ocean with private plunge pools), and the Four Seasons on Petite Anse.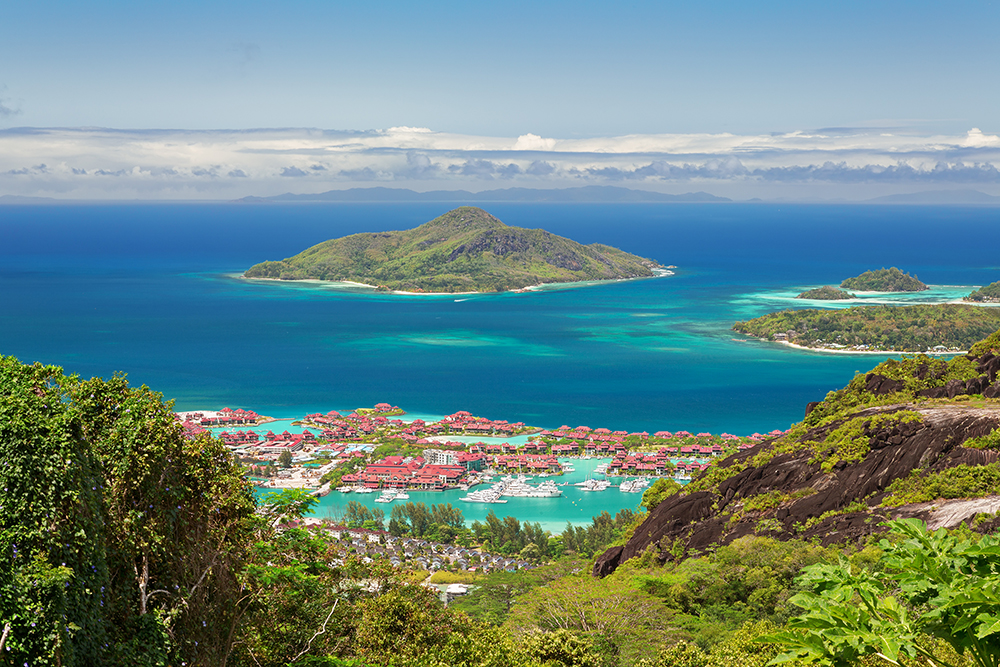 THINGS TO KNOW
Try the seafood. The island's cuisine is mostly seafood-centric, due to the country's many cultural influences and the availability of various options. Specialties include things such as shark chutney (boiled and mashed shark seasoned with bilimibi juice and lime) and ladob (a unique dish containing plantain simmered in coconut milk, which can be eaten as a savory dish or as a dessert).
HOW TO GET THERE
Seychelles is located about 300 miles off the east coast of Africa, with most flights into Seychelles International Airport connecting through Doha, Dubai, or Nairobi. Travel done between the islands is typically done by small planes or helicopters, though ferry service is available between the main islands of Mahé, La Digue, and Praslin. Ferries are operated by Seychellesbookings.com. And according to the Seychelles official travel website, you can hire a car to get around for $45-60 per day.
Also check out our post on how to bring the luxury vacation experience home so you can continue enjoying your vacation long after it's over. Above all, enjoy yourself; this vacation is sure to leave some lasting memories of beautiful beaches, and delicious cuisine.
RELATED LINKS