THE BEST SURFING SPOTS IN ORANGE COUNTY
Posted by Villa Real Estate on Tuesday, July 4, 2017 at 9:00 PM
By Villa Real Estate / July 4, 2017
Comment
Summer is here and so is the surf! During this time of year large tropical storms from the far south hound Orange County's fifty-mile stretch of coastal beaches, bringing in warm water and world-class waves. Surfers flock to Orange County during the summer months from all corners of California to try and score on these seasonal waves. With hundreds of options of surf breaks to choose from, coupled with the age-old question of where to eat post surf, it's often hard to make the right call on where to paddle out. Have a spot in mind? If not, don't stress, your friends at Villa have made a guide to the best surf spots in Orange County to help you fully capitalize on this summer's swell.
HUNTINGTON BEACH PIER
Huntington Beach, otherwise known as "The Surf City," is one of the premier surfing breaks in Orange County. Huntington is notably consistent in having perfect shape and regularly having waves while other places are flat, which allows it to host many surfing related events such as the Vans US Open—a nine-day surf competition and lifestyle festival. Every year from July 29th to August 6th over 500,000 people descend upon the Huntington Beach Pier to watch some of the best surfers in the world duke it out. Don't worry though, you don't have to be a world-class surfer to ride Huntington's waves, skill level can vary from beginner to expert due to the type of wave it is: a beach-break.
The pier is considered a beach-break because it's waves break on top of a large sandbar that is located about 100 yards offshore. This allows for multiple peaks to arise along the coast and on a good enough south swell it creates a hollow shape to the wave. A good breakfast spot to refuel at in the "surf city" after long morning surf is the Sugar Shack. It is located on Main Street in downtown Huntington and has been serving hearty breakfasts to surfers for over 30 years. Whether it's watching the pros at the Vans US Open or surfing its peaks, Huntington Beach Pier is a spot every surfer should visit.
56TH STREET, NEWPORT BEACH
Newport Beach is home to over eight miles of picturesque beaches, which stretch all the way from the legendary Wedge to the Santa Ana River Mouth, but the waves located at 56th street take the cake. Protruding from the beach for about 100 yards into the water is a large man-made rock jetty. This stops the sand from moving down the coast on the north and the south sides of the jetty, creating sandbars that are perfect for almost any swell direction. The 56th street waves tend to be ridden by surfers with a little more experience, due to its fast moving pace and ultra-hollow shape. Just down a little way from 56th street on Pacific Coast Highway is a local favorite breakfast spot: Al Cappuccino Coffee House. Here you can score a famous Al Cap' everything bagel topped with cream cheese, avocado, tomato, and lemon pepper. It's the best bagel to eat after surfing Newport's best break.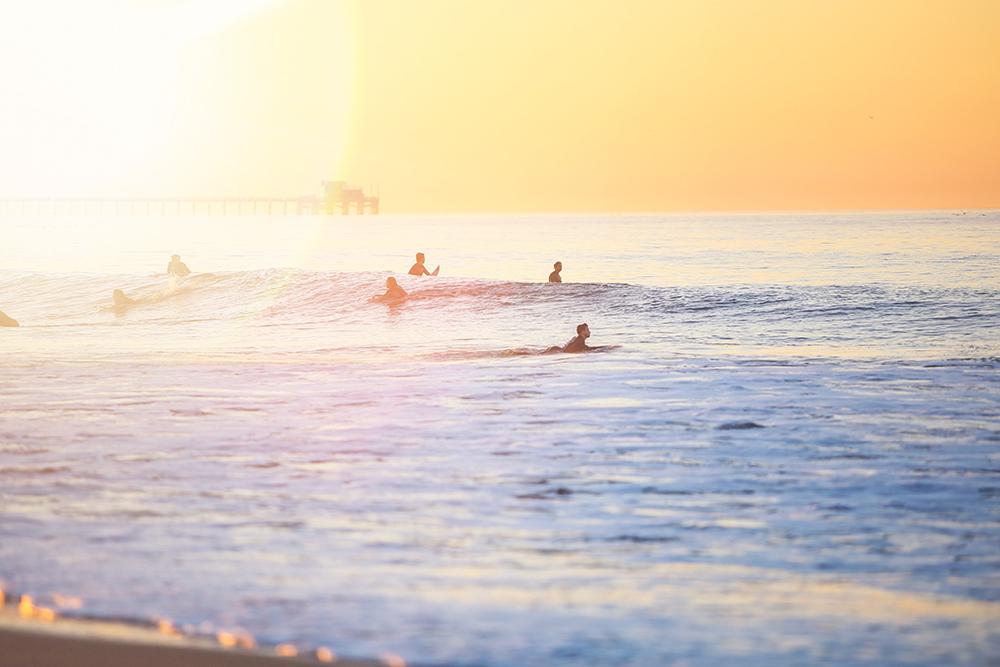 THE WEDGE, BALBOA PENINSULA
In 1936, the city of Newport Beach extended the rocky jetty on the southern end of the Balboa Peninsula in order to protect boats from large swells while entering the harbor. Out of this extension the infamous Wedge wave was born. The wave is formed when one wave reflects off the jetty wall and combines with another incoming wave, creating one massive peak. This peak breaks very close to shore because of the steep drop off in sand and is known as a shore-break wave. The mixture of the shallow water and the wedged peak create massive barrels that draw both surfers and bodysurfers to it from all over the globe. During the summer months when the south swells hit Newport Beach's coast, the waves can get larger than thirty feet, which makes the Wedge more of a place to admire than surf. After watching one of nature's most powerful forces break fifty yards away from you, a good place to grab a healthy meal is located just up the street at 22nd Street: Banzai Bowls, where they pride themselves on serving the best and biggest acai bowls in town.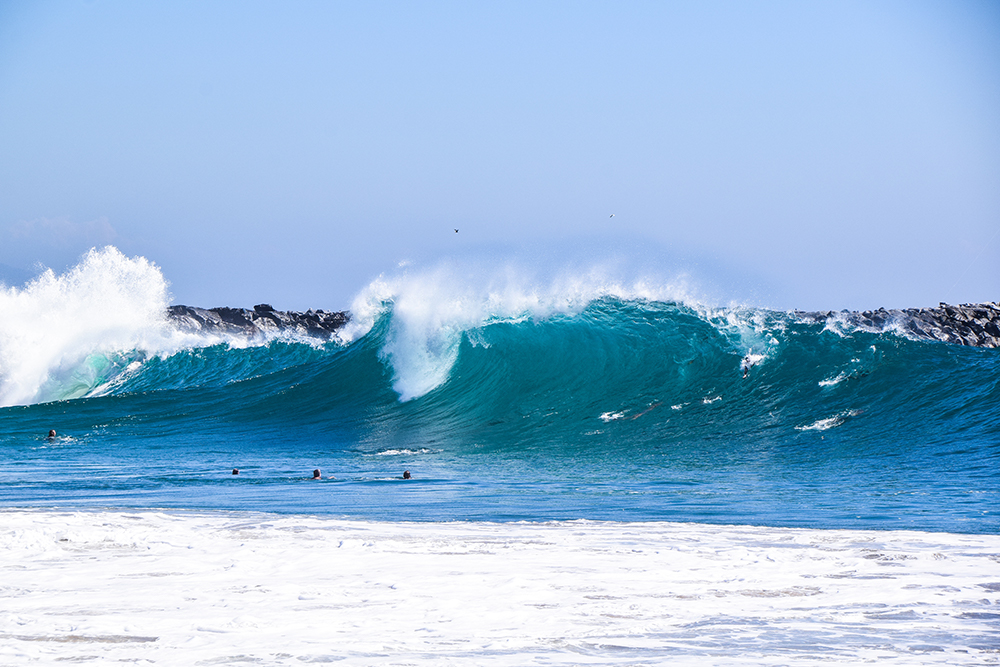 LOWER TRESTLES, SAN CLEMENTE
Last, but certainly not the least, is Lower Trestles or "Lowers" beach located at the most southern part of Orange County, in San Clemente. Trestles is a collection of five different waves: Cottons, Barbs, Uppers, Middles, and Lowers at San Onofre State Beach. Lowers is the best of the five waves and is a reef/point break that is home to one of Southern California's longest riding rights. Lowers Trestles can be surfed by every skill level due to the breaks having gentle sloping faces. The easy-to-ride face is created by the combination of pristine winds and by the way the waves wrap around the point. Trestles' waves can hold up well into the afternoon and many times you find yourself surfing longer than expected. After a long Lowers session, the best breakfast/lunch spot is an authentic Mexican taco stand called Pedro's Tacos. From their fresh fish tacos to their California burritos, Pedro's Tacos serves up some of Southern California's best Mexican cuisine.
Have a spot that we didn't include? Comment and let us know your favorite beach for surfing!