Where To Get the Best Brunch in Orange County
Posted by Villa Real Estate on Wednesday, March 15, 2017 at 9:00 PM
By Villa Real Estate / March 15, 2017
Comment
What's better on a relaxing late weekend morning or early afternoon than brunch? There are few better ways to enjoy a weekend than by getting together with friends and family to grab some delicious food and possibly mimosas. At Villa, we love brunch and decided we wanted to find the best places to hang out and eat brunch. And now, we want to share the results of our research with you.
Much like our post about the best coffee shops in OC, our somewhat unscientific research consisted of surveying seven different local publications, aggregating all the findings, and then compiling our own list. Our research yielded eight places for the best brunch and six honorable mentions.
So, here's the list of where to get the best brunch in Orange County:
SIDEDOOR
Where: Corona del Mar
When: Sundays, 11:00 AM - 3:30 PM
CDM's "first and only traditional English-style gastropub," SideDoor's design and ambiance is based on Ye Olde Bell, which is a beautiful luxury bed and breakfast hotel in the English countryside. Enter on Poppy Street under the big red key to find a comfortable atmosphere, filled with the scents of fresh food and an ever-changing menu, plus recommended pairings for each dish. This remarkable little spot in Corona del Mar is a "must visit" for any serious brunch-goer in OC.
ORANGE HILL
Where: Orange
When: Saturdays, All Day, a la carte
& Sundays, 9:00 AM - 3:00 PM, Champagne Brunch
With a delicious, fresh A La Carte Brunch menu on Saturdays including Market Fresh Seafood Tower, a variety of Egg Benedicts, Steak N' Eggs, selection of Pancakes, and much more, Orange Hill really shines with their Sunday Champagne Brunch. Voted #1 Best Sunday Brunch by Orange County Register and Best of OC, the buffet offers complimentary champagne and a number of indulgent options to please the palate of even the harshest brunch critics. Their brunch food selections include: made-to-order pasta, omelets, fresh seafood, carving stations, decadent desserts and much more. Beautiful views from their hill-top location are simply the topping on the pancakes.
TAPS FISH HOUSE & BREWERY
Where: Brea, Irvine
When: Sundays, 9:30 AM - 2:00 PM (Brea)
& Sundays, 10:00 AM - 2:00 PM (Irvine)
Deemed the "TAPS Brunch Extravaganza," this brunch spot is one of the most talked about in Orange County. And understandably so! Start off with pancakes and waffles made to order, or proceed directly to the carving station and assorted brunch classics. Continue your feast with chilled seafood on ice – from plump shrimp to the freshest oysters on the half shell. Don't miss smoked salmon, artisan cheeses, bountiful fruits, freshly baked breads and breakfast pastries. With all those choices, there's something for everyone to enjoy!
Save room for made-to-order bananas foster and their interactive chocolate fountain. The TAPS Brunch Extravaganza also includes a choice of TAPS award-winning beers or endless mimosas.
CHAPTER ONE: THE LOCAL MODERN
Where: Santa Ana
When: Saturdays, 11:00 AM - 3:00 PM
& Sundays, 10:00 AM - 3:00 PM
Housed in an ex-bookstore, this modern gastropub tavern serves up delicious, fresh food, made from locally grown and organic produce. The founder Jeff Hall, says that it is Chapter One's goal is to be innovative and constantly on the cutting edge, pushing and redefining what a gastropub is. Their Sinatra Sunday Brunch menu includes items such as their house special Duck Fat Fries, Macadamia Nut Pancakes, Stuffed French Toast, and Steak & Potatoes. Check out their full brunch menu here.
PLUMS CAFE
Where: Costa Mesa
When: Weekends, 8:00 AM - 3:00 PM
Offering the second largest brunch window for Saturdays and Sundays, this not-so-hidden gem of Costa Mesa serves up fresh foods inspired by the Pacific Northwest. Some house specialties include their Campfire Trout, which comes with two eggs any style, two strips of Oregon Pepper Bacon, Plums Potatoes, and Organic 9 grain toast. The Coconut French Toast comes with strawberries, papaya, & banana, orange butter & maple syrup. And their Chocolate Banana Waffle comes served with salty caramel, Oregon hazelnuts, whipping cream. Check out their full menu here.
OLD VINE CAFE
Where: Costa Mesa
When: Every day, 9:00 AM - 3:00 PM
An eclectic, delicious eatery located in Costa Mesa's "hipster haven," The Camp, Old Vine Cafe is run by award-winning chef-owner Mark McDonald. They have a menu that is inspired by regionalism and the use of seasonal, fresh ingredients, which is influenced by Chef Mark's culinary training in southern Italy. Their breakfast and brunch selection is widely considered "delicious," but they don't take reservations for breakfast, so expect to wait for a table.
?STACKS PANCAKE HOUSE
Where: Dana Point, Irvine, Mission Viejo
When: Every day, 6:30 AM - 2:00 PM
A self-described melting pot of cuisine, Stacks is known for their Banana Macadamia Nut Pancakes, served with Coconut syrup. They also serve up globally-influenced dishes such as their Hawaiian Loco Moco, Korean Kalbi Ribs, Japanese Fried Rice Omelettes, French Crepes, and the American Classic: Eggs Benedict. All with their signature Hawaiian flair. Stacks is owned and operated by Nixon Tanuwidjaja and his wife Ovita, both of whom are fine dining veterans. They spent some time in Hawaii picking up on what would become their signature taste, and upon returning to Los Angeles opened Stacks, which became an instant success due to their unique delicious flavors.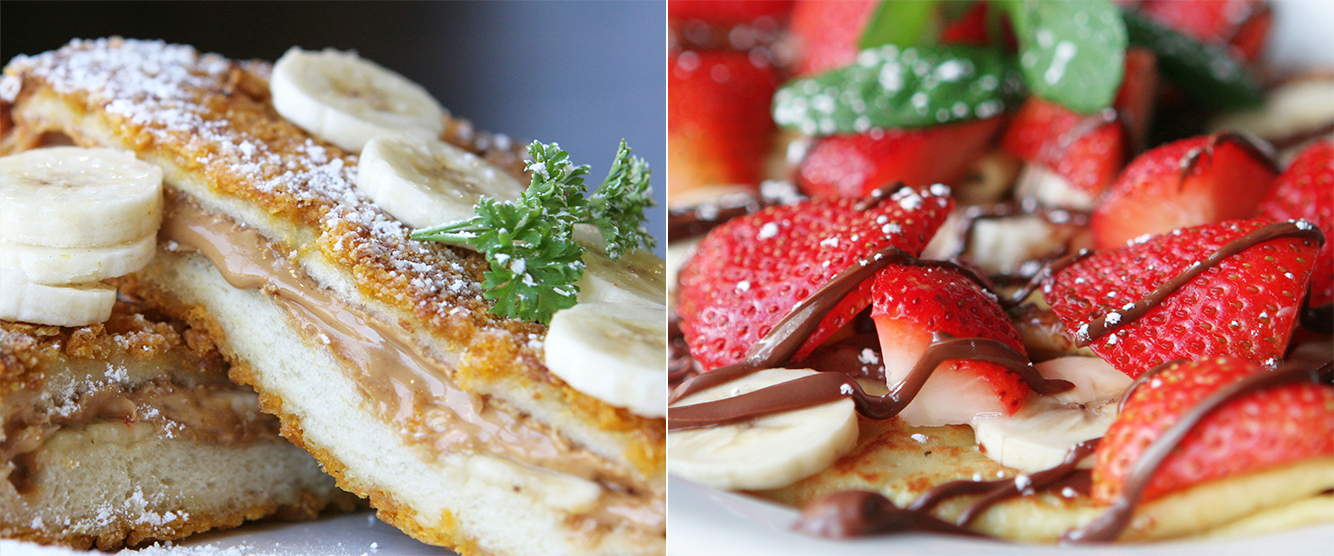 LAS BRISAS
Where: Laguna Beach
When: Sundays, 8:00 AM - 3:00 PM
Ocean views and an outdoor patio are the trademarks of this popular Mexican Seafood and Brunch spot in beautiful Laguna Beach. Their delicious brunch includes a four-course, full-service dining experience including complimentary champagne from Las Brisas' own private stock, authentic Mexican pastries freshly baked in their ovens, and your choice of coffee, tea, or milk. Start off your feast with some fresh fruit, move on to a soup or salad, choose from their delectable brunch entree selection, and finish off with the Chef's Daily Dessert Specialty.
Honorable Mentions.
Not every delicious brunch spot could make it onto our list, but we wanted to quickly mention a few who were very close contenders.
Bosscat Kitchen and Libations (Newport Beach)
?Ramos House Cafe (San Juan Capistrano)
?La Vida Cantina (Costa Mesa)
?Break of Dawn (Laguna Hills)?
Bayside (Newport Beach)
?Hopscotch (Downtown Fullerton)
Happy Brunching!
References: OC Register, Locale Magazine, Thrillist, OC Weekly, CBS Local, Where Traveler, and SoCal Pulse.